January 24, 2017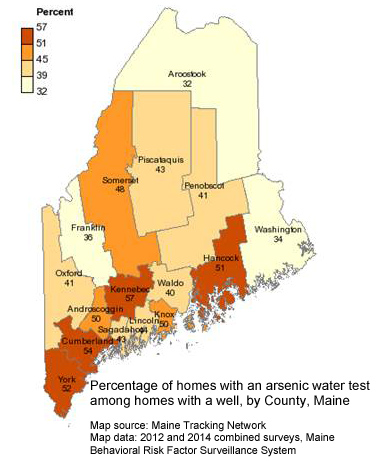 It's a good question given that more than half of Maine households use a well for drinking water, and an estimated 10% of wells in the state have too much naturally occurring arsenic.
So, what's the answer? About 48% of Maine wells have been tested for arsenic. That's according to 2014 data recently added to the Maine Tracking Network's private well water content.
The updated data make it possible for the first time to provide estimates of arsenic testing for Maine's counties; county estimates use combined data from statewide surveys conducted in 2012 and 2014. The percentage of households that have tested their well water for arsenic in each county ranges from 32% in Aroostook County to 57% in Kennebec County.
In addition to data about wells that have been tested for arsenic, the Maine Tracking Network includes data about homes with a well, homes with a well that have had any kind of water test, and well water quality.
Together, all of this data allows users to better understand well water contamination and testing in the state, find arsenic or other contaminant hot spots, and explore well water quality for Maine towns.
Learn More