September 1, 2017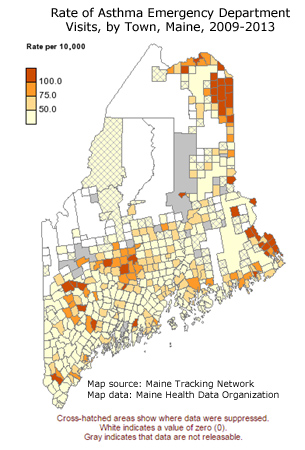 If you are interested in data about respiratory disease in Maine, the Maine Tracking Network has just made it easier for you to find and explore data about chronic obstructive pulmonary disease (COPD) and asthma. Local data about emergency department visits and hospitalizations related to COPD and asthma care are now available for the first time through the Maine Tracking Network data portal.
Here is what's new and waiting to be explored through the data portal's maps and other customizable display options:
Town-level data for asthma (2009-2013) and COPD (2010-2014) emergency department visits and hospitalizations 
An additional year of adult asthma prevalence data; years available for these data are now 2011-2014
COPD hospitalization and emergency department visit data for single and combined years 2001-2014 for counties, public health districts and the state
COPD is one of the leading causes of death nationally and in Maine. Maine has some of the highest rates of asthma in the country; in Maine approximately 1 in 9 people has asthma, compared to 1 in 13 nationally. Tracking COPD and asthma can help identify groups of people at high risk, describe areas with the greatest burden of disease, provide information that can be used to develop prevention efforts and help the public health and health care system better understand patterns of care for these conditions.
Learn More