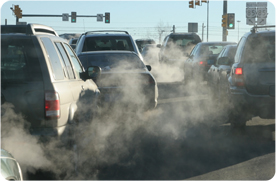 What air quality data are available on the data portal?
For each indicator find the number or percent of days that exceeded the National Ambient Air Quality Standard, by county, for the years 1999-2018.
New! A near real-time display with hourly updates on current and forecast air quality maps for the state and the nation. Use it to explore data for Ozone and particulate matter in your region.
Why track air quality?
Maine tracks ozone levels and particulate matter levels through the use of air monitors. By integrating air monitoring data with health data like emergency department visits, Maine hopes to get a better picture of the health impacts associated with seasonal air pollution trends and determine means to minimize health effects.
Where can I find more information about air quality?