February 20, 2018
The Maine Tracking Network has published Childhood Lead Poisoning data for the year 2016. This release provides users with the most up-to-date information on lead poisoning and screening for the state, counties, high-risk areas, and towns.
In addition to the new year of data, the Maine Tracking Network has launched a new mapping tool to enhance users' abilities to visualize and explore lead poisoning, screening and risk factor data. Currently, the enhanced mapping tool is only available for exploring lead poisoning data for high-risk areas and towns.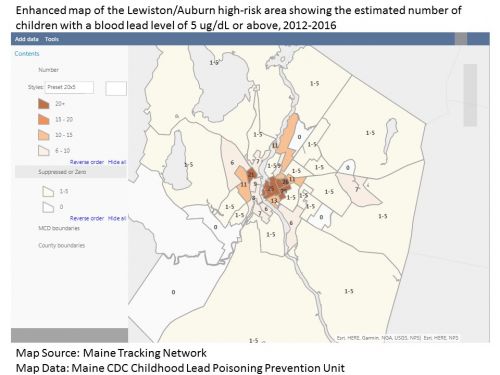 Key features of the enhanced maps include:
Zoom and pan in 5 convenient ways (e.g., scroll in, draw a box, move zoom slider)
Choose from 10 different high-resolution background styles (e.g., streets, satellite image)
Turn different layers on and off and create color schemes
These enhanced features allow users to view and interact with maps in ways that were not possible before – such as viewing street names in high-risk area maps, customizing map layers by turning on or off coloration where data have been suppressed, and adding or removing county boundaries.
Ready to start exploring the 2016 childhood lead poisoning data and the new mapping tool? Here are some interesting queries to try:
Create a two-map display for a high-risk area to see how lead poisoning has decreased over time in the area.
Use the risk factors topic to create a map of pre-1950 housing for towns to find out which town in your county has the highest percentage. Hint: Click the orange double arrow to open layers and select County Lines in contents!
Compare 2015 and 2016 calendar year screening data in maps to see how blood lead screening rates in your county have changed for children 12-<24 and 24-<36 months old.
Learn More